Safe Helpline is the Department of Defense's (DoD) sole hotline for members of the DoD community affected by sexual assault. Safe Helpline is a Service member exiting a vehicle completely anonymous, confidential, 24/7, specialized service—providing help and information anytime, anywhere.
---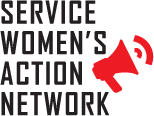 The SWAN Online Resource Portal is here to provide you with access to women-specific resources, services, and support. We are working every day to ensure that you and all of our members have access to the critical information and assistance you need, when and where you need it.
---

Hear Stories Of Recovery From Veterans Like You.  
---

---


The purpose of the SANE Program Development and Operation Guide is to provide a blueprint for nurses and communities that would like to start a Sexual Assault Nurse Examiner (SANE) program. Here are their resources.
---

Dedicated to connecting women with active duty, Reserves, and/or Guard military service and their families, caregivers, advocates, and communities to local, state, and federal online resources 24/7.
---
The MHS Mental Health Website provides tools for coping with post-traumatic stress and difficult deployment memories.  Part of MHS is another site called After Deployment.
 These links and suggested books can be found on their website.
---
If you need an APP for your Healthcare then go to the VA App Store.
All links are checked by Artificial Intelligence that notifies us when a link is broken.