MST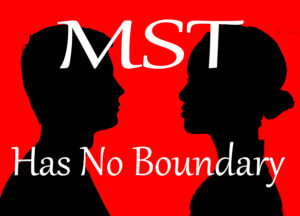 The Department of Defense defines Military Sexual Trauma (MST) as rape, sexual assault, and sexual harassment. They make it a package deal.
Rape is non-consensual sexual intercourse with another person by means of physical force or threats.
Sexual assault is sexual contact with a person, as in to

uching a person's intimate parts,

without

that person's consent.

Sexual harassment

is

unwelcome sexual advances, requests for sexual favors, and other verbal or physical harassment of a sexual nature in the workplace or living environment.
Trauma

is

the lasting emotional response that often results from living through a distressing event

.
Experiencing these traumatic events can harm a person's sense of safety, sense of self, and ability to regulate emotions and navigate relationships. The aftermath is something we have to deal with for the rest of our lives.
The suspect is usually known in the military. It was someone you trusted. Your trust after this has been destroyed. Instead of me writing more about this read this U.S. Department of Justice PDF.
MST is not a disability it was an experience. MST may cause disabling conditions such as post-traumatic stress disorder (PTSD), anxiety, depression, and sexual arousal disorder. Physical Trauma took place during the commission of this act. View the TOP 10
Disability Compensation for Conditions Related to Military Sexual Trauma (MST)
Evidence Needed For A Disability Claim Based on MST
MST impacts different Veterans in different ways, and you can file a disability compensation claim for any health condition you have as a result of your experiences with MST.
For any VA disability compensation claim to be successful, there must be:
A current physical or mental condition that affects your body or mind; and
An event, injury, or illness that happened while you

were

serving in the military; and
A link between your current disability and the event, injury, or disease that happened during your military service.
For MST-related claims, you can use any of the items listed below to support your disability claim related to MST.
Department of Defense (DOD) sexual assault or harassment reporting forms
Investigative reports completed during military service
You are eligible for veterans' disability compensation for military sexual trauma if you can prove:
you had an incident of military sexual trauma while on active duty
you are currently diagnosed with a mental or physical disability, and
your disabilities were caused by or were worsened by, the military sexual trauma you suffered in service.
When you file for PTSD because of MST also file for disabilities for the ongoing physical injuries you are suffering from. How were you hurt when you were attacked? What are the Effects and Aftermath of being raped? Have you heard about Sexual Assault Nurse Examiner (SANE) program.?
What should I know about treatment and VA services?
Although MST can be a very difficult experience, there are treatments available that can significantly improve your quality of life. Treatment often involves addressing any immediate health and safety concerns, followed by counseling to help you learn new ways of thinking, practice positive behaviors, and take active steps to cope with the effects of MST. Treatment may focus on strategies for coping with difficult emotions and memories or, for Veterans who are ready, treatment may involve talking about the MST experiences in depth.
At VA, Veterans can receive free, confidential treatment for mental and physical health conditions related to MST. You may be able to receive this MST-related care even if you are not eligible for other VA services. To receive these services, you do not need a VA service-connected disability rating, and you don't need to have reported the incident when it happened nor to have other documentation that it occurred.
Knowing that MST survivors may have special concerns, every VA healthcare facility has an MST Coordinator who can answer any questions you might have about VA's MST services. VA has a range of services available to meet Veterans where they are in their recovery process:
Every VA healthcare facility has providers knowledgeable about treatment for problems related to MST. Many have specialized outpatient mental health services focusing on sexual trauma. Vet Centers also have specially trained sexual trauma counselors.
VA has over 20 programs nationwide that offer specialized MST treatment in a residential or inpatient setting. These programs are for Veterans who need more intense treatment and support.
Because some Veterans do not feel comfortable in mixed-gender treatment settings, some facilities have separate programs for men and women. All residential and inpatient MST programs have separate sleeping areas for men and women.
How can MST affect Veterans?
Military sexual trauma is an experience, not a diagnosis or a condition in and of itself. Because of this, Veterans may react in a wide variety of ways of experiencing MST. Problems may not surface until months or years after the MST, and sometimes not until after a Veteran has left military service. For some Veterans, experiences of MST may continue to affect their mental and physical health, work, relationships, and everyday life even many years later.
Your reaction may depend on factors such as:
Whether you have a prior history of trauma
The types of responses you received from others at the time of the experience
Whether the experience happened once or was repeated over time
Some of the difficulties both female and male survivors of MST may have include:
Strong emotions: feeling depressed; having intense, sudden emotional responses to things; feeling angry or irritable all the time
Feelings of numbness: feeling emotionally "flat"; trouble feeling love or happiness
Trouble sleeping: trouble falling or staying asleep; bad dreams or nightmares
The trouble with attention, concentration, and memory: trouble staying focused; often finding your mind wandering; having a hard time remembering things
Problems with alcohol or other drugs: drinking to excess or using drugs daily; getting drunk or "high" to cope with memories or unpleasant feelings; drinking to fall asleep
The trouble with reminders of the sexual trauma: feeling on edge or "jumpy" all the time; not feeling safe; going out of your way to avoid reminders of the trauma; trouble trusting others
Problems in relationships: feeling alone or not connected to others; abusive relationships; trouble with employers or authority figures
Physical health problems: sexual issues; chronic pain; weight or eating problems; stomach or bowel problems
Fortunately, people can recover from experiences of trauma, and VA has services to help Veterans move their lives forward.
Here is the Overview by the VA
VA uses the term "military sexual trauma" (MST) to refer to sexual assault or harassment experienced during military service. MST includes any sexual activity that you are involved with against your will. Examples include:  
Being pressured or coerced into sexual activities, such as with threats of negative treatment if you refuse to cooperate or with promises of better treatment in exchange for sex
Someone having sexual contact with you without your consent, such as when you were asleep or intoxicated
Being physically forced to have sex
Being touched in a sexual way that made you uncomfortable
Repeated comments about your body or sexual activities
Threatening and unwanted sexual advances
Anyone can experience MST, regardless of gender.  Like other types of trauma, MST can negatively affect a person's mental and physical health, even many years later. Things you may experience could include:
Disturbing memories or nightmares
Difficulty feeling safe
Feelings of depression or numbness
Problems with alcohol or other drugs
Feeling isolated from other people
Problems with anger, irritability, or other strong emotions
Issues with sleep
Physical health problems
If you are having current difficulties related to MST, VA is here to support you in whatever way will help you best — from simply learning more about how MST affects people, to treatment that helps you cope with how MST is impacting your life currently, or if you prefer, a treatment that involves discussing your experiences in more depth.
Watch this video to learn about the effects of MST on survivors and the services the VA has available to assist in recovery.