PTSD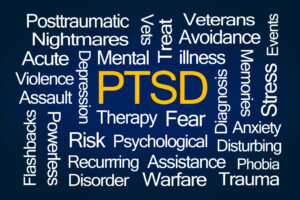 MST may cause disabling conditions such as post-traumatic stress disorder ( PTSD ).  You must know a lot about PTSD to deal with it.  Learning the basics about PTSD is important.  Do you realize there are 4 types of PTSD symptoms?  PTSD is a mental health problem.  A trend has started to refer to PTSD as PTSI.
Find out what the VA needs to know so they can help you. The system is not trying to defeat you it is trying to help you.
First Here is how you are rated for PTSD which is  "38 CFR 4.130 – Schedule of ratings–Mental Disorders"
Second: The VA uses the DSM 5 Tests.   You must meet certain criteria in order to be diagnosed with PTSD according to DSM-5 PTSD Diagnosis Tests.  Learn a lot more about how the VA Tests  using  DSM 5 
Third: Disability Compensation for Conditions Related to Military Sexual Trauma (MST)
Evidence Needed For A Disability Claim Based on MST
MST impacts different Veterans in different ways, and you can file a disability compensation claim for any health condition you have as a result of your experiences with MST.
For any VA disability compensation claim to be successful, there must be:
A current physical or mental condition that affects your body or mind; and
An event, injury, or illness that happened while you were serving in the military; and
A link between your current disability and the event, injury, or disease that happened during your military service.
For MST-related claims, you can use any of the items listed below to support your disability claim related to MST.
Department of Defense (DOD) sexual assault or harassment reporting forms
Investigative reports completed during military service
The following short animated videos use hand-drawn images to help you learn about PTSD and effective treatments. Whiteboard Videos
"Post Traumatic Stress Disorder (PTSD) is a complex and serious disorder affecting Veterans from every conflict. VA is committed to providing the best care and resources for our Veterans that are diagnosed and deal with PTSD. We have made historic progress in PTSD treatments and are expanding access by increasing the number of mental health providers at VA medical centers. Learn more about VA's programs, support groups, and research aimed to help those with PTSD."
COMPLEX PTSD: The VA combines PTSD with C-PTSD. It is important for you to know about both.
While the concept of C-PTSD is long-standing, it is not in the fifth edition of the Diagnostic and Statistical Manual of Mental Disorders (DSM-5), and therefore isn't officially recognized by the American Psychiatric Association (APA).
Although C-PTSD comes with its own set of symptoms, the VA does not recognize CPTSD and combines it with PTSD.  As a result, the DSM-5 lumps symptoms of C-PTSD together with PTSD
Complex PTSD is similar to traditional PTSD but differs in such a way as to how it formulates.  Complex PTSD is suffering from related trauma over the course of months or even years, rather than a single event.
Examples of long-term trauma include:
ongoing physical, emotional, or sexual abuse
being a prisoner of war
living in an area of war for long periods of time
ongoing childhood neglect
abused by someone who was supposed to be their caregiver or protector
domestic violence
genocide campaign
slavery
torture
Symptom Differences
To give you some more clarity on how a doctor or professional can distinguish between PTSD and CPTSD, here are the signs. It is often believed that CPTSD symptoms are in addition to the already existing PTSD symptoms.
PTSD
Often reliving the traumatic experience, such as through nightmares and
flashbacks
Avoiding certain situations and activities that induce fear
Changes in beliefs and feelings about themselves and others
They are hyper-aroused, meaning they are always on high alert
CPTSD
Lack of emotional regulation and may have uncontrollable feelings
Changes in consciousness and dissociation
Adverse self-perception
Has a hard time maintaining healthy relationships
Has a distorted perception of their trauma
Loss of systems of meanings, such as loss of faith and view of the world/life as meaningless