Prepare for the C&P Exam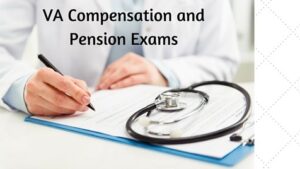 The C&P Exam, short for "Compensation and Pension", is an exam performed by a Civilian or VA physician to document the current severity of a condition that is being considered for VA Disability. Knowing how they rate you for any condition is extremely important.  Here is how they rate you for PTSD caused by MST.   You must believe in yourself.  You must know the definition, signs, symptoms, cause, the effect of MST and PTSD.  You must know how to apply that to your life. It all must be truthful and you must be living it. Take a loved one with you during the exam.  What you forget they will remember. Tell them to speak up. Thoroughly discuss your plan. It is for moral support and comfort.  Talk… do not just sit there and answer questions. Tell them the age-old who what why where when and how your life was altered during the events that took place up to when you were raped every day until you walked into that office. Here is what a VA Rater has to say about what you should do to win your claim.
Do not think you proved anything until you see it on paper. I was amazed when I was turned down and had to file again with the VSO. I was scheduled for a hearing for 6 months until they approved the disability. Some of them are televised a few are in front of a board. The VSO will be with you.
Copying and pasting text by everyone else is not helpful to you. It some cases it is illegal.
Just like me, you can do a  Google  Search for "how to prepare for a c&p exam"
Here are some of the search results:
Hi Veterans, Brian Reese here from VA Claims Insider! In this post, I'm sharing some "INSIDER" tips on how to prepare for your VA C and P exams for PTSD.
Once a veteran files a VA claim for PTSD the VA will make the veteran undergo a Compensation and Pension Examination (C&P exam). VA will verify the …
Jul 13, 2017 –

Military Sexual Trauma (MST) can lead to PTSD & other conditions. … related to MST and common mistakes they make on MST-related claims. … to even order a Compensation and Pension exam (C&P exam) for the veteran.
The ten most frequently conducted examinations—which collectively make up 67 percent of … C&P examinations for PTSD consist of a review of medical history; …
Focus on these 4 Points and get the VA PTSD rating you …
If you can focus on these aspects of a VA PTSD claim – meaning don't wait for the … out that new VA PTSD rating or service connection rules or regulations make the … Done properly, it can also be a very strong piece of evidence that a VA C&P …. Military Sexual Trauma (MST) · Muscles Bones and Joints · Nerve Conditions …