Self Defense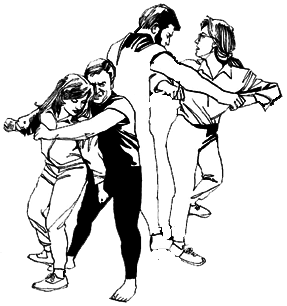 You can be robbed, raped, or killed  by a stranger or someone you know and trust. The less cautious you are, the more vulnerable you become. You are armed with your best weapon: good old common sense and judgment. If it doesn't feel right don't do it. Use your intuition. Don't ignore the warning signs, such a body language. Think about the situation you are putting yourself in.
Play what-if games. "If this happens to me what will I do"? The more you practice something, the quicker you are to react to it. One of the better web sites on this subject is Crime Safety Security for Women.
Trust that 6th sense or intuition.
---
Resources for Self-defense. 
Stay "S.A.F.E."  Self-defense Awareness & Familiarization Exchange
The goal: 
STOP the attack.

INCAPACITATE the suspect. 

FLEE to safety.



Never have the false impression you can just kick someone in the groin to get away. Are they wearing protection, high on drugs, to drunk to feel anything? You need SELF CONFIDENCE knowing how to protect yourself with several moves that work for you. You do not need a black belt to stop incapacitate to flee. You do need to learn a few moves and practice those moves regularly so you are prepared with muscle memory.
The Association for Women's Self -Defense Advancement AWSDA began with the realization that the needs of women about self-defense are not being met. Founded in 1990, AWSDA is a grass-roots, non-profit, tax-exempt (501-C-3), educational organization dedicated to furthering women's awareness of self-defense and rape prevention. AWSDA is an international organization, which is run through an executive board with headquarters in Lindenhurst, Long Island, New York.
Women's Self-defense Institute The mission at Women's Self-defense Institute is simple – empowering you to fight back against crime. How? By providing you training and education in awareness, Prevention, Risk Reduction, Risk avoidance, and Self-realization of your own
physical power.
AWARE: Arming Women Against Rape & Endangerment The site points out that while "AWARE stands for Arming Women Against Rape and Endangerment" individuals should not "interpret the word 'arming' too literally." Instead, the site notes that "arming" merely "implies that one can (and indeed should) be armed with courage, spirit, knowledge, and determination, whether or not one is armed with an extrinsic weapon." The site includes self-protection and stalking quizzes, a list of tools and techniques available to women for self-defense, and an extensive bibliography.
National Women's Martial Arts Federation The site includes tips for choosing a martial arts school, schools affiliated with the NWMAF, and links to relevant sites.
Many YouTube Videos for women's self-defense.
YouTube has many videos about self-defense for everyone..
---
Hand to hand combat training shows striking points: SEE DISCLAIMER BELOW:
IMPORTANT DISCLAIMER: Please use extreme caution when practicing all the moves you observe in the videos or from the outside links. Remember that with the right amount of force, you can severely hurt somebody. These techniques are to be used for self-defense purposes only. All self-defense moves and tips are to be used at your own risk