Prepare for the C&P Exam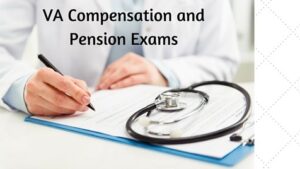 Here is the LINK to the page about The C&P Exam,  "Compensation and Pension" by the VA.
Do NOT just sit there and expect them to ask the right questions for you to answer. This exam is about a claim you have made for a disability. Start talking about how it feels and all the who what why where when how about it. Look up your disability on VSARD to see what it says.
Don't assume they are on your side. Don't expect them to agree with you. Don't think they will say the disability claim is valid. You will be notified of their results in the mail.  TAKE IT TO THE VSO.
Hi Veterans, Brian Reese here from VA Claims Insider! In this post, I'm sharing some "INSIDER" tips on how to prepare for your VA C and P exams for PTSD.
Once a veteran files a VA claim for PTSD the VA will make the veteran undergo a Compensation and Pension Examination (C&P exam). VA will verify the …
Jul 13, 2017 –

Military Sexual Trauma (MST) can lead to PTSD & other conditions. … related to MST and common mistakes they make on MST-related claims. … to even order a Compensation and Pension exam (C&P exam) for the veteran.
The ten most frequently conducted examinations—which collectively make up 67 percent of … C&P examinations for PTSD consist of a review of medical history; …
Focus on these 4 Points and get the VA PTSD rating you …
If you can focus on these aspects of a VA PTSD claim – meaning don't wait for the … out that new VA PTSD rating or service connection rules or regulations make the … Done properly, it can also be a very strong piece of evidence that a VA C&P …. Military Sexual Trauma (MST) · Muscles Bones and Joints · Nerve Conditions …